Name- Shamrock
Age- Seven and a half months
Gender- Male
Description-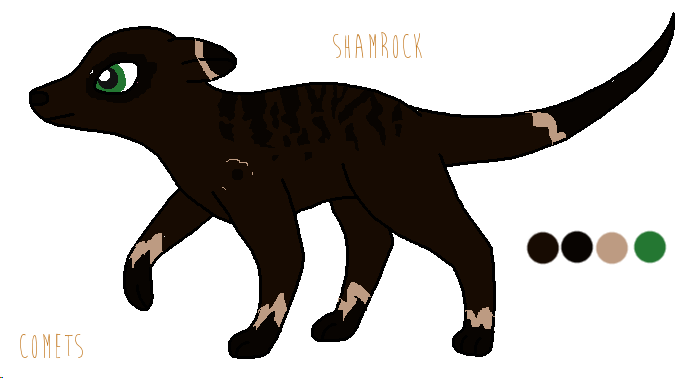 Personality-
Shamrock got his name from a number of things- his eyes resembling the color of the plant, the marking on his head, and the luck that seems to come with the shamrock plant. He's always gotten away from things in the way most would view him lucky- he's had several narrow escapes with things that would have surely killed him. He's yet still too young to go roving, so that might just be where is luck stops- nobody knows for sure. Shamrock is kind of quiet- he enjoys company of others, but tends to isolate himself within the family. He has a tight bond to his littermates and mother and that's where it ends for him. He's an incredibly loyal member of the family, but he isn't much good in a fight. His body might be fast, but mentally he's a little slow. When in danger, his mind takes longer to process than his body does, which is sometimes an advantage and sometimes not, for he has a logical mind that likes to think every little move through- when it isn't two steps behind his physical being, that is. He enjoys playfighting every now and then, as he still believes in good fun, but he can't get into a playfight for long before he'll start calculating his moves mentally, which slows him down.
History-
Shamrock is the child of Valentine and littermate to Pumpkin and Firework. He was raised by his mother to the best of her ability, and the four of them grew a tight bond difficult to break easily. He was always the more adventurous as a young pup, but after he had a near-run in with death several times he realized he was ether lucky or someone up in the sky was looking out for him- at a young age he was still a logical young mind, so the idea seemed a little far fetched for him. The older he grew the stronger his bond became, and he wondered how he would fit in at a fully-functioning mob. He knew then he was smaller than most males as he'd seen some come calling for him mother as well as his mind seemed to often be behind his body when it came to battling, running, and instinct. He knew his good heart would at least make him a worthy mob member, but he doubted his duties to do anything else. Now that him and his family have come across the Comets, he's willing to put it to the test. He hopes he'll be a valuable member of the mob.
Name- Firework
Age- Seven and a half months
Gender- Female
Description-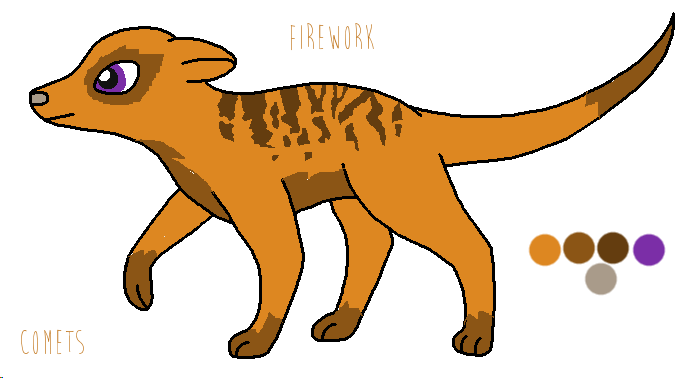 Personality-
Firework is like a firework in itself- she's bright, loud, and attractive. She's a ball of energy some might say, and others might just swat her over the head because she never shuts up. It's strange, compared to the almost always silent Shamrock, how much she'll make noise. She's an avid playfighter and is known for being quick on her feet and quick to think- even if she regrets the decisions later. Her call is very distinct and loud, much like a firework itself. Her personality is bright and typically fun to be around, unless, of course, meerkats aren't the happiest of souls or just find her downright annoying. It's rare she's ever caught snoozing during the day. She'll probably be found playfighting or gazing into the sky. Firework is a hot-head and is very fiesty but lacks any ferocity- she will charge head on into a fight, but will later probably run scurrying in fear. She doesn't do well with pain, or anything negative for the matter. If the world she lives in isn't bright and happy she can't be. the older she gets the more her personality comes in bursts. Some days she just won't feel her pup-like energy anymore and she'll be all glum and quiet. Her mother believes she will eventually grow out of it- but then who will she become?
History- Pretty much the same as Shamrock's, minus his personal doubts and what not.
Hope they work for you Pan! I can change anything.